It is often called the "Queen City of the South". Cebu is the main center of Christianity in the Philippines. Cebu was a fishing village and busy trading port in 1521 when the famous explorer Ferdinand Magellan visited it and died there. The center of the city has become modern and is well developed.
ITINERARY:
1st day: Arrival at Cebu Airport
Visiting Cebu city tour, Temple of Leah, 10k Roses & Sirao Garden
2nd day: Kawasan Falls + Canyoneering Whole day activities, trekking, exploring fails & swimming.
3rd day: Oslob + Sumilon Island.
Early in the Transfer to Oslob very early in the morning to catch the whale watching and swimming with them.
Have lunch in Sumilon sand bar perfect blue water to enjoy water activities. One of the best secluded gateways.
4th day: Cebu Departure. Free time until transfer to the Airport.
REMARKS:
| | | | |
| --- | --- | --- | --- |
| REGULAR CHECK-IN TIME: | 2PM | REGULAR CHECK-OUT TIME: | 12NN |
NOTE: NO RESERVATION HAS BEEN MADE YET RATES SUBJECT TO CHANGE ANYTIME W/O PRIOR NOTICE.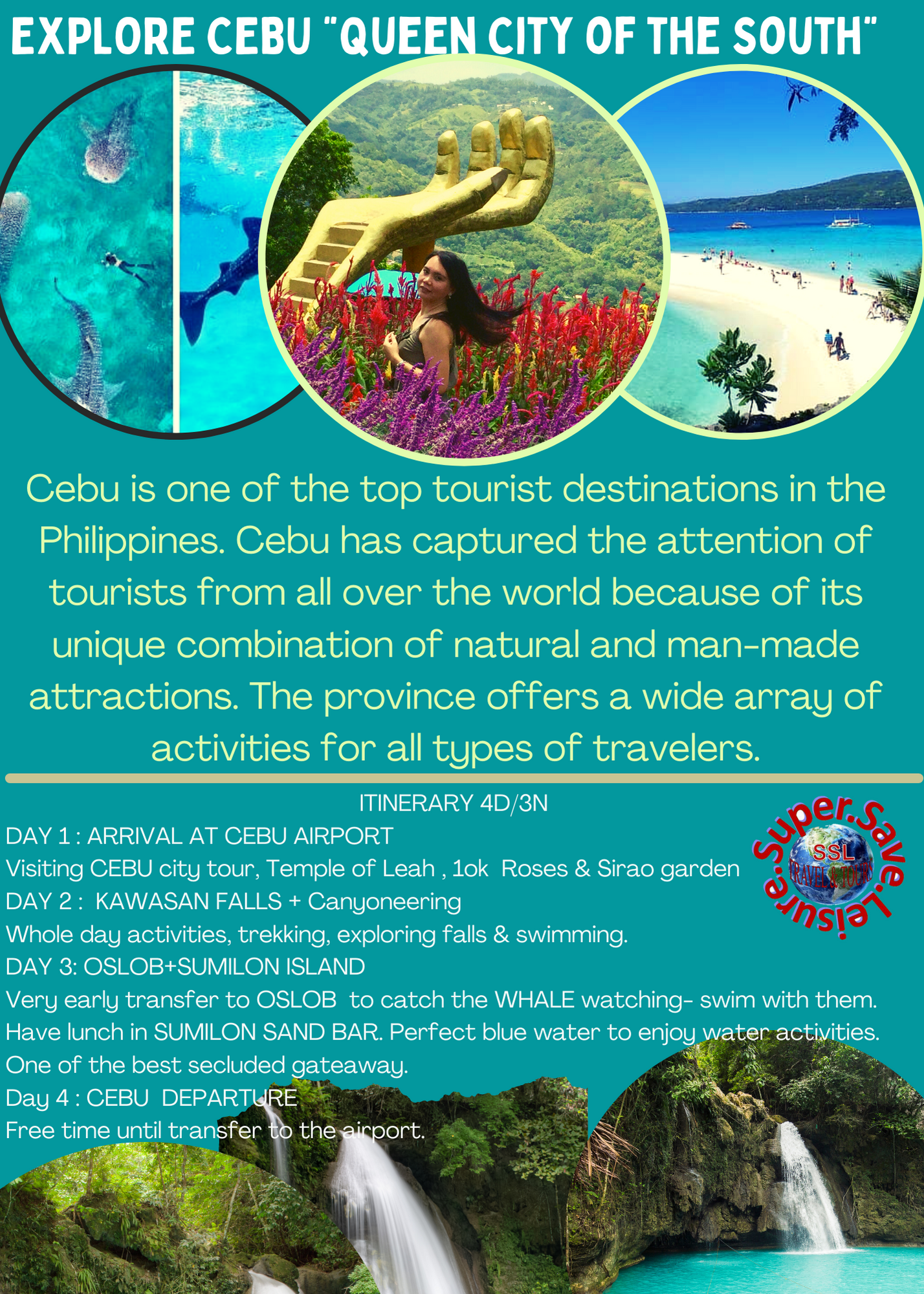 EXPLORE CEBU CITY TOUR
Magellan's Cross Fort San Pedro
Basilica Minore del Sto Nino
Pari-an Monument
Yap San Diego House
Taoist Temple
Running tour along Cebu's business and civic districts
Souvenir shop
TEMPLE OF LEAH
The Temple of Leah was built to symbolize the undying love of a husband who wants to show his ceaseless devotion to his wife.
KAWASAN FALLS
Famous for its beautiful turquoise water, Kawasan Falls sits at the foot of Mantalongon Mountain Range, approximately one kilometer from the national road of Badian and at least four hours of trekking from Osmeña Peak of Dalaguete.
Trio of picturesque waterfalls into natural swimming pools & lagoons, accessible via jungle trails.
CANYONEERING in Kawasan Falls
The activity may also involve jumping into the water and flowing with it. The activity is known by different names in different countries. While it is called canyoneering in the United States, the people of Europe and its influenced countries call it canyoning.
Canyoneering: swimming, climbing, hiking, cliff diving.
Canyoning (or canyoneering) is traversing a canyon or gorge by combining hiking, climbing, swimming, and/or abseiling. A sport by many names, it explores the hard-to-reach areas of a natural landscape by following a water route carved through rock formations.
OSLOB interaction with WHALE SHARK
Swimming among those gentle giants is such a thrilling experience!
The Oslob, Cebu whale sharks (Rhincodon typus) are considered as the living species of the 'largest fish in the world'. They can reach up to 15 meters long, but the ones in Tanawan, Cebu are smaller as observed by many, but could also reach that long when they become more mature.
Swimming with whale sharks in the middle of the ocean! While whale sharks have a huge mouth, they almost exclusively feed on plankton. That is why they are absolutely harmless to humans. They are mainly interested in fish eggs, algae and krill, and they are definitely not interested in the person swimming next to them.
SUMILON ISLAND SAND BAR
Sumilon is a small 24 hectare island located in the southeastern tip of Cebu that is a favorite its white sandbar and scuba diving for all enthusiasts. The white sandbar of Sumilon Island is noted for its changing and shifting patterns depending on the time of year.