TRAVEL DATE: FRI-TUE DEP OCT 28- ARRIVAL NOV 1, 2022 FOR AS LOW AS 1150USD
HIGHLIGHTS :
1. Dubai city tour -photo stop Jumeirah Mosque, View of Burj Al Arab, Madinat Jumeirah, Palm Atlantis, Pass by Knowledge Village, Dubai Internet City, Media City, View Burj Khalifa, Dubai Mall, AL Fahidi Fort, Gold Souq.
2. Desert Safari with BBQ dinner.
3. Abu Dhabi City tour + Qasr Al Watan
4. Dubai frame tour
5. Dubai aquarium & underwater zoo+ Fountain show at Dubai
INCLUSIONS :
ROUNDTRIP AIRFARE- 7 KLS HAND CARRY
ROUNDTRIP AIRPORT TO HOTEL TRANSFER
HOTEL ACCOMMODATION
3 BREAKFAST
1 DINNER AS PER ITINERARY
TRANSFER DURING TOURS AS PER STATED IN THE ITINERARY
ENTRANCE FEE AS PER STATED IN THE ITINERARY
Travel Insurance
Phil travel Tax
EXCLUSIONS:
Check-in Luggage = 1900/WAY/20KLS
Tourism Fee - 5 USD
Visa Fee - 85 USD requirement-passport copy only.
FEEL FREE TO MESSAGE Super Save Leisure - SSL Travel and Tours.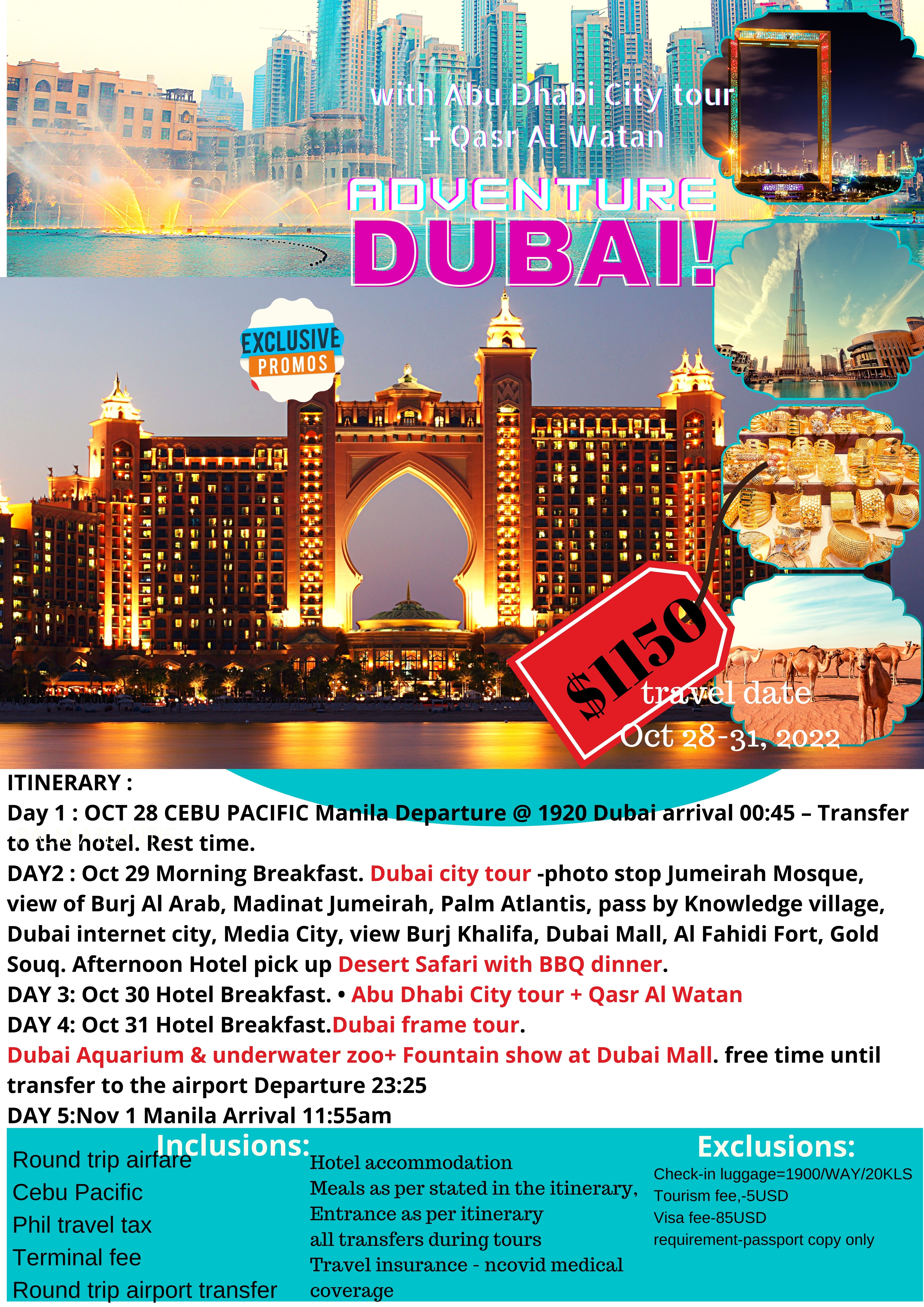 Jumeirah Mosque
Jumeirah Mosque, one of Dubai's most prominent monuments, welcomes people of all religions to appreciate the surroundings and learn about Islam and local culture.
The mosque, was constructed completely of white stone in the medieval Fatimid style, with twin minarets towering above a massive central dome.
The complex creativity and elegance are enhanced when it is lit up at dusk.
View of Burj Al Arab
The Burj Al Arab can be described as the hotel with the most records, as it is the world's highest, most luxury (7 stars), and, of course, one of the most expensive. "Burj Al Arab" is Arabic for "Arab Tower".
The Burj Al Arab was planned by architect Tom Wright in October 1993 and finished in November 1999, just in time for the millennium.
Madinat Jumeirah
Madinat Jumeirah is a Dubai-based Arabian mini-city with five-star hotels, ornate souks, and beachside destinations.
There are various big hotels in this destination inside a destination.
There is a five-kilometer-long river system equipped with its own fleet of traditional abra boats.
On one of these in-house abras, you can take a tour of the entire property and stop by along the route.
Palm Atlantis
Our Atlantis resorts in Dubai will transport you to another dimension.
These world-famous entertainment resorts are known for its gorgeous architecture, one-of-a-kind rooms and suites, out-of-this-world restaurants, and thrilling attractions like Aquaventure Waterpark.
Pass by Knowledge village
Dubai Knowledge Village, is a free trade zone focused primarily on the promotion of educational institutions.
You will find everything related to education in Dubai Knowledge Village, whether it is educational-related companies that provide consulting to universities or any training institutes.
Dubai internet city
It is housed within a Free Zone. It has the largest ICT infrastructure in the Middle East. It enables businesses to take use of alternative financial sources, collaborations, and cooperative ideas.
Dubai Internet City (DIC) is a technology, education, new media, and science innovation hub in Dubai.
Media City
Dubai Media City is a free zone devoted to all forms and sorts of media.
It was the first of its kind in the region, founded in 2001, and includes important enterprises and universities specializing in media and communications.
Restaurants, hotels, health and sports centers, as well as recreational and service amenities, are all located inside DMC.
View Burj Khalifa
The Burj Khalifa is the world's tallest building and a global symbol. The skyscraper, which is truly a feat of engineering, reflects the city of Dubai's conceptual heart and soul.
This majestic skyscraper, which stands at 828 meters tall and is located close to The Dubai Mall, has attracted visitors from all over the world since its opening in 2010.
The unrivaled Burj Khalifa view may be enjoyed from two observation decks: the two-story At the Top on the 124th and 125th floors, and one of the world's highest observation decks (555m) on the 148th level.
Dubai Mall
The Dubai Mall, located near to the world's tallest structure, the Burj Khalifa.
The Dubai Mall, which spans over 1 million square meters and includes over 1,200 retail stores, two major department stores, and hundreds of food and beverage outlets, is the size of 200 football fields.
For fashionistas, there are over 70 signature businesses to choose from, including Bloomingdale's and Galeries Lafayette, the first in the Middle East.
Fashion Avenue is the place to go for haute couture, where you can see the latest collections from world-famous designers and brands like Versace, Burberry, and others.
AL Fahidi Fort
At the Dubai Museum, you'll find colorful dioramas and informative historical exhibitions.
This is the city's oldest existing building, housed in the Al Fahidi Fort, and a must-see for a flavor of old Dubai.
Before being refurbished during the reign of Sheikh Rashid bin Saeed Al Maktoum, this fort served as the monarch's base, a fortified home, a weapons depot, and a prison.
The fort was reopened as the Dubai Museum in 1971, the same year the United Arab Emirates was founded.
The galleries include images from the desert and marine life, as well as traditional Arab buildings, mosques, souks, and date plantations.
Gold Souq
The Gold Souk is one of the emirate's oldest and most fascinating traditional markets.
Walk through the sparkling bazaar to see designs from around the world fashioned with a variety of carats, whether you're just browsing or actually looking for even the tiniest piece of pure gold.