Bringing the Bible into Life by seeing where it took place.
Inclusions in Israel
Airfare Manila-Israel-Turkey
With 23 kilos check in luggage, taxes & terminal fees
Professional Licensed Christian
Entrance fees according to itinerary
2 Nights 4 Stars Hotel Nazareth/Tiberius on HB basis
3 Nights 4 Deluxe Hotel Bethlehem on HB
Meals as per stated in the Itinerary
2 Small Bottles of water daily per person in the bus in Jordan and Isarel. Unlimited drinks in Egypt
Souvenir Gift, Map, Special Wood made group photo, pilgrimage certificate
Whispers' technology in Israel and Egypt (20 pax and above)
Insurance with NCOVID coverage
Inclusions in Turkey
Israel to Istanbul to Adana
Check in Luggage's taxes
Terminal Fees
Turkey to Manila
4-5 Star Hotels accommodation
Meals as per Itinerary
English Speaking guide
AC Deluxe coach
Entrance Fees of museums and sites
Leather Shop visit in Kusadasi
Turkish Delight Shop visit in Kusadasi
Carpet Factory visit in Cappadocia
Jewelry Factory visit in Cappadocia
Textile Visit in Pamukkale
Bottled water on the bus
Insurance with NCOVID coverage
PAYMENT Package Rate: $ 2388 Down Payment: $ 300
Balance: $ 2088
To be divided monthly until 1 month before departure.
Next Due Date, will paid on the next month after paying the down payment.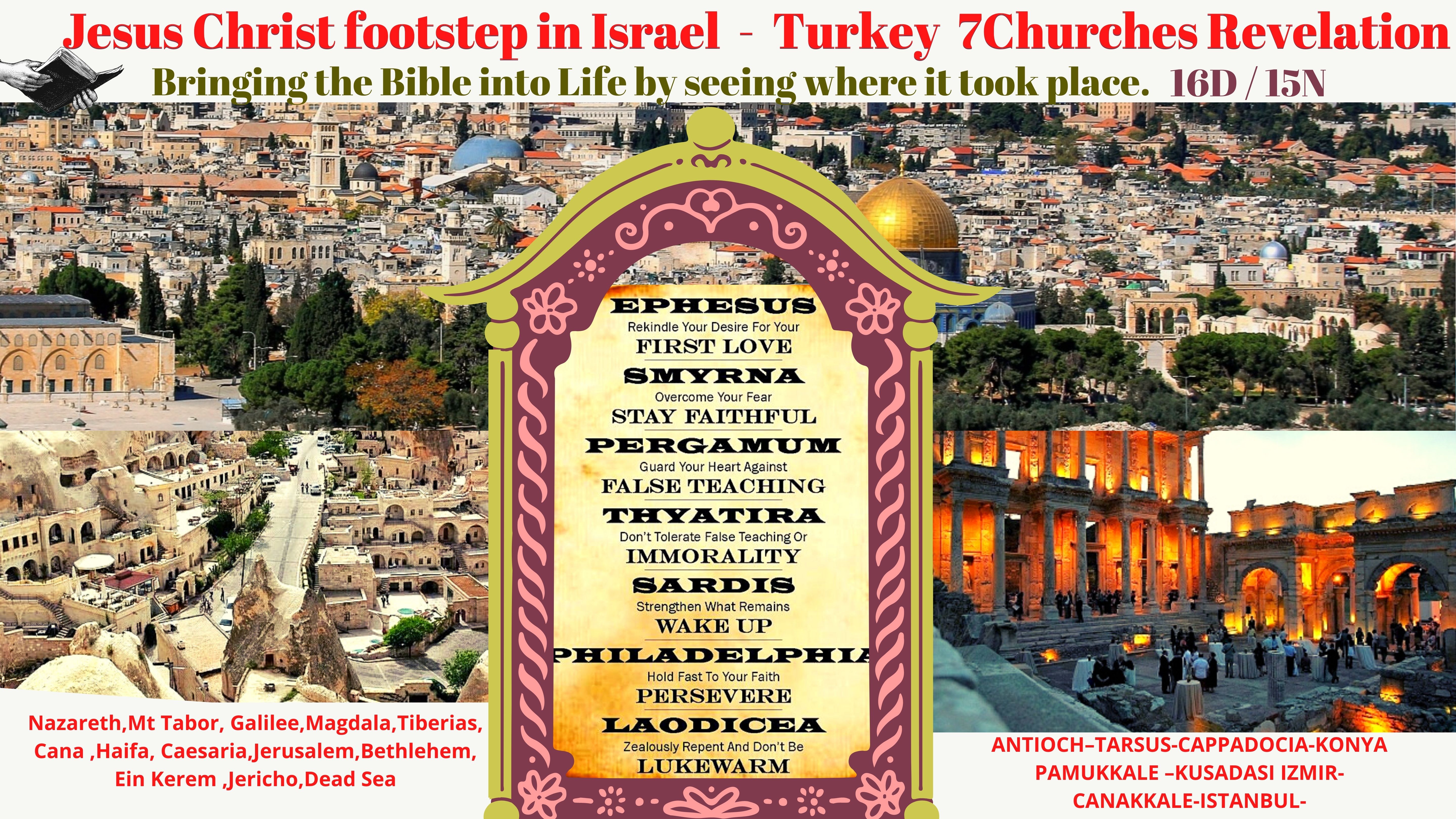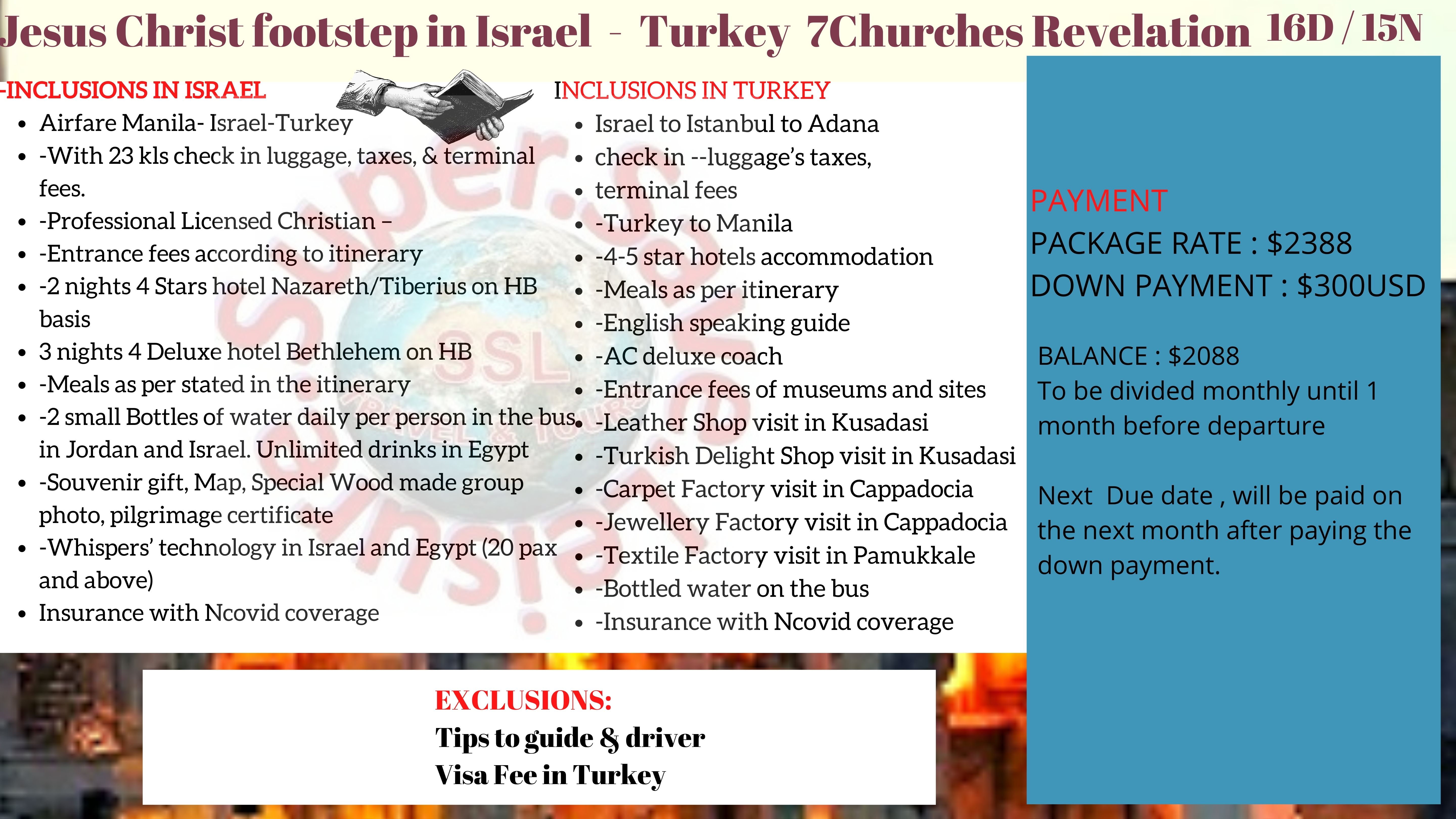 EPHESUS
Ephesus, is located within what was formerly the Kaystros River's estuary, is made up of numerous Hellenistic and Roman cities built on different sites as the coastline withdrew westward.
Grand structures from the Roman Imperial period, such as the Library of Celsus and the Great Theatre, have been discovered during excavations. The magnificent Temple of Artemis, one of the "Seven Wonders of the World," which drew travelers from all across the Mediterranean, has largely vanished.
The House of the Virgin Mary, a domed cruciform chapel seven kilometers from Ephesus, has been an important Christian pilgrimage site since the fifth century.
The Ancient City of Ephesus, with its sea channel and harbour basin, is an outstanding example of a Roman port city.
SMYRNA
Smyrna was established near the ruins of an ancient Greek colony destroyed in the 7th century BC, 56 kilometers north of Ephesus.
In the third century BC, Lysimachus, one of Alexander the Great's generals, rebuilt Smyrna as a new Hellenistic metropolis.
In the book of Revelation, Smyrna was the second city to receive a letter from the apostle John.
According to Acts 19:10, the church was established during Paul's third missionary voyage.
PERGAMUM
Pergamum,

about 50 miles north of Smyrna, was Asia Minor's most important religious city.
It was a center for paganism, with Zeus, Athena, and a slew of other false gods worshipped there.
Pergamum is assumed to have become a Roman province around 130 BC, and like Smyrna, the populace participated in and fostered emperor worship.
Pergamum was also recognized for its learning and civilization.
THYATIRA
Thyatira was the tiniest of the seven cities, yet it was also the recipient of the longest letter. It was about 45 miles southeast of Pergamum and was known for its textiles, particularly purple dye manufacture, and trade guilds.
This church was doing a lot of things right, but someone was leading them astray with incorrect teachings. Some in this congregation had apparently been influenced by a woman claiming to be a prophetess to join the local trade guilds, without which a trader could not work in Thyatira. This entailed taking part in guild feasts that featured immoral behaviors and idol worship.
SARDIS
In Revelation 2-3, Sardis was the fifth of seven churches in Asia Minor to receive a message from Jesus Christ.
There were congregations in other surrounding places when Jesus Christ delivered His message to the church at Sardis around the end of the first century.
Sardis was one of Asia Minor's oldest and most prominent cities, and the capital of Lydia's monarchy until 549 BC.
PHILADELPHIA
Philadelphia, the city of brotherly love. It appears that the ancient church was moved by that name. They adored Jesus, and he did not hesitate to refer to them as brothers.
Only this church and the church in Smyrna gained absolute praise and approbation out of the seven churches. They made Jesus very happy.
King Eumenes of Pergamon gave the city its name in honor of his brother Attalus, whom he adored. Because it was one among the ten cities of the plain, the city was also known as Decapolis.
The ground was fertile enough to cultivate grapes on one side of the city. The quality of the wine produced in Philadelphia's fields was such that the Roman poet Virgil wrote about it.
Philadelphia was also known as 'Little Athens' due to the pagan temples and other public structures that adorned the city. Its contemporary name, Ala-shehir, could be a misspelling of Turkish words that mean "city of God."
LAODICEA
During the Roman era, Laodicea was a prosperous city. Laodicea was not only on major trade routes connecting it to important cities like Ephesus, Smyrna, and Sardis, but it was also a textile and banking hub.
The church of Laodicea is mentioned in the Bible as being wealthy, which is rather unsurprising. Massive columns have been discovered in Laodicea, a significant ancient city in western Turkey that served as an early Christian center.
The 1900-year-old columns were discovered in the city's northern agora, which the Turkish newspaper Hurriyet Daily News called as "one of Anatolia's oldest faith centers."
*Join us for a tour of the Holy Land & visit the 7 Churches in the Book of Revelation. Designed to be a rich spiritual experience, the tour will visit the most meaningful Christian sites
A Remarkable journey , Join us and Reserve now!!