Goreme open air museum
Best valleys in Cappadocia
Underground city
Carpet shop
Jewelry shop
Local handcraft shops
Mevlana Museum
YALVAC Hierapolis
Necropolis Roman Baths
Basilica
Calcium cliff -white "Cotton Castles
Leather shopping with fashion show
Ruins of Ephesus -Arcadia way -Library of Celsius -amphitheater Acropolis ,
Cave Church of Peter
Hatay Archeological Museum
St. Paul's Well, St. Paul's house
The Cleopatra Gate Sağlıklı Village
House of the Virgin Mary
Red Basilica
Troy legendary walls,& buildings
Famous Wooden Horse
Blue Mosque Hippodrome
Hagia Sophia Mosque
Topkapi Palace
Grand Bazaar
Bosphorus Cruise
7 churches sites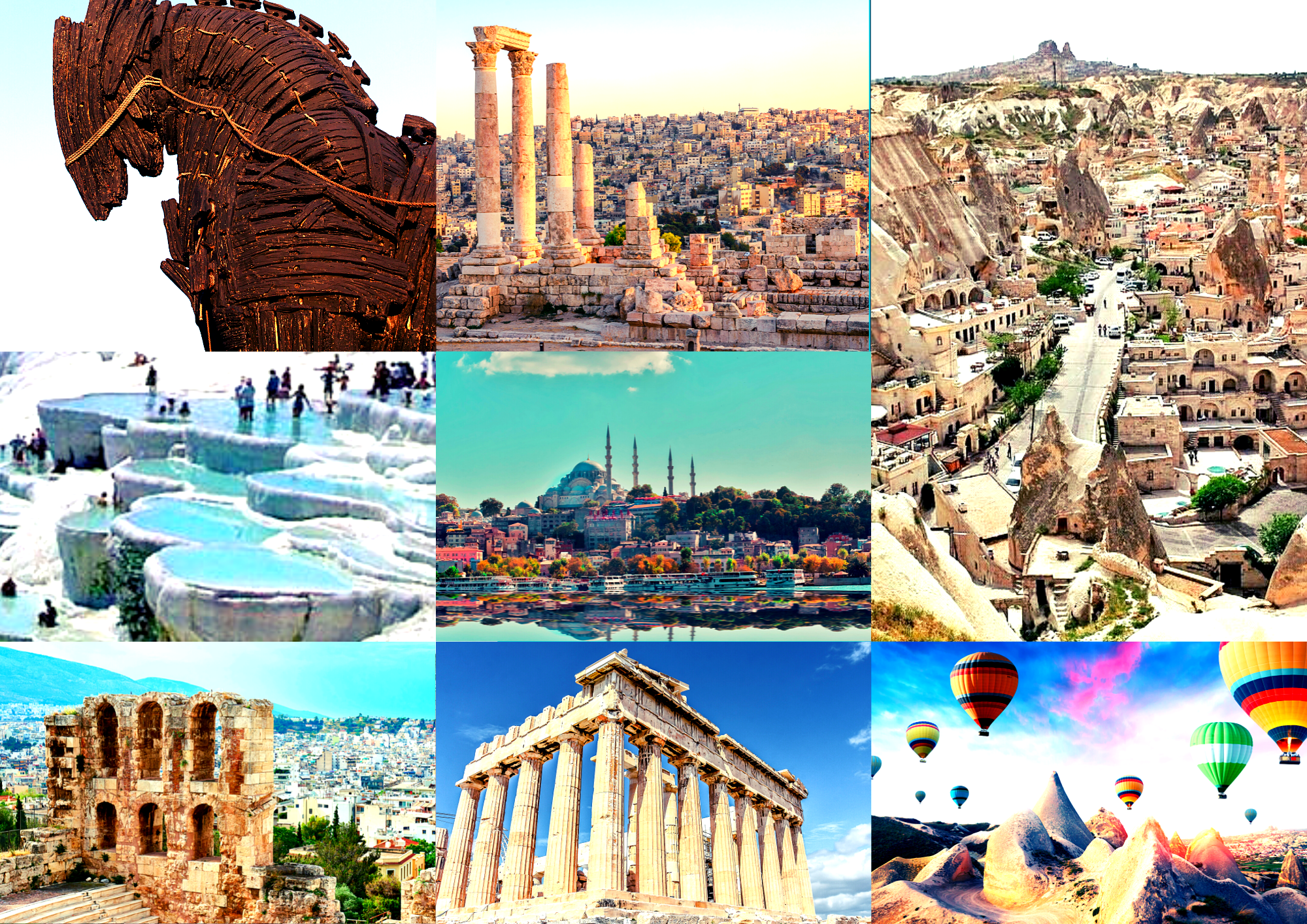 Goreme open air museum
A recent addition to the splendour of Mamallapuram, this museum reflects the heritage of the Sangam era (5th century BCE- 3rd century CE). The museum displays rare stone exhibits such as ornamental wheels, chains, utensils, etc., along with tools like chisels and mallets that were used to produce them.
The fairy chimneys or hoodoos of Cappadocia are one such interesting aspect of this historical place. The fairy chimneys are actually tall and narrow columnar rock formations that rise from the base of a rocky or volcanic area, usually in a badlands or a dry drainage basin.
Best Valleys to See in Cappadocia (Fairy Chimneys, Caves, Rock-cut Churches & Houses)
Pasabag (Monks) Valley.Zelve Valley.Devrent Imagination Valley.Pigeon Valley.Love Valley.Red Valley.Red Valley.Swords Valley and many more
Underground City
Kaymakli Underground City (Turkish: Kaymaklı; Cappadocian Greek: Ανακού) is contained within the citadel of Kaymakli in the Central Anatolia Region of Turkey. First opened to tourists in 1964, the village is about 19 km from Nevşehir, on the Nevşehir-Niğde road.
Pamukkale cotton castle Turkey
Pamukkale, meaning "cotton castle" in Turkish, is a natural site in Denizli Province in southwestern Turkey.
What is special about Pamukkale Turkey?
Pamukkale is a traveller's delight and a geological phenomenon. It is a town in western Turkey best known for its mineral-rich thermal waters that flow down the bright white terraces of a steep valley side. Next to this is Hierapolis, an ancient Roman spa city founded around 190B. C
The site gets its name from the numerous cascading white pools with bright turquoise water surfaces. From a distance, the white limestone walls seem to resemble an immense castle of fluffy cotton.
Ephesus, Greek Ephesos,
the most important Greek city in Ionian Asia Minor, the ruins of which lie near the modern village of Selƈuk in western Turkey. Ruins of the Memmius Monument (built 1st century ce) at Ephesus, near modern-day Selçuk, Turkey.
Ephesus is famous for being one of the best-preserved ancient cities in the world, housing significant historical ruins like the Library of Celsus, the Basilica of St. John, and the Temple of Artemis. It is also very close to holy places like Seven Sleepers, and the House of the Virgin Mary