MANILA : The city of Manila is a place that is both old and modern. With its rich history, almost all areas have become great tourist spots in Manila that everyone wants to visit. From the preserved architecture brought by Spanish colonialism to outstanding Filipino culture, Manila has everything you'd ask for!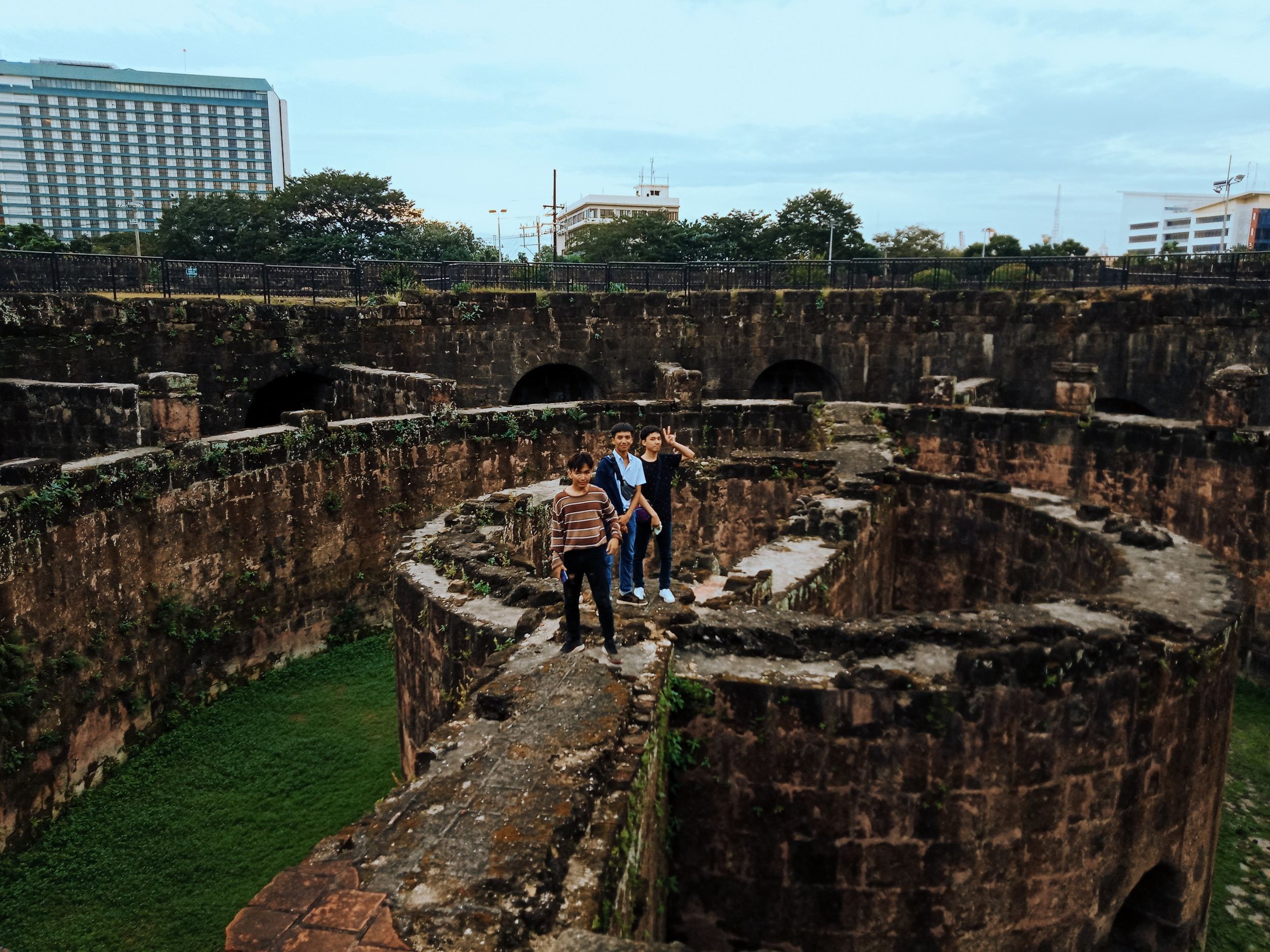 Manila is most famous for the colonial architecture of Intramuros, striking sunsets over Manila Bay, extremely nice yet affordable central business districts, and the enormous Mall of Asia.
Manila City tour
Intramuros
Rizal Park
.National Museum of the Philippines
Fort Santiago.
San Agustin Church.
Manila Cathedral
Malls & shopping
***************************************************************Cebu City (also known as Cebu) is the oldest city in the Philippines, in the Province of Cebu. It is often called the "Queen City of the South". Cebu is the main center of Christianity in the Philippines. Cebu has recently become the favorite tourist spot of the country.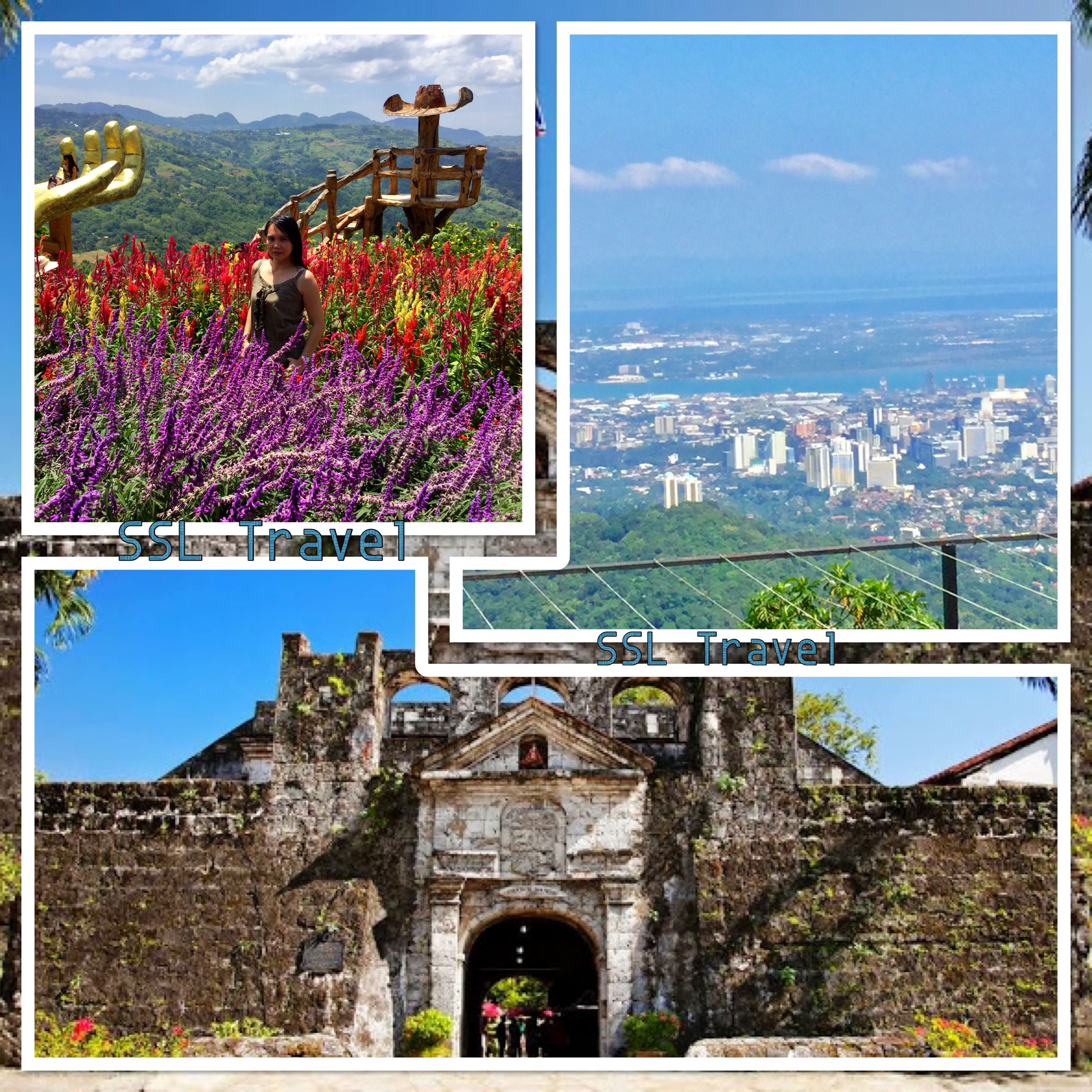 Cebu City Tour
Sto. Niño Church and Magellan's Cros
Pasalubong Center (souvenirs)
Fort San Ped
Yap-San Diego Ancestral House
Lunch at House of Lechon
Taoist Temple Stop
Sirao Garden Stop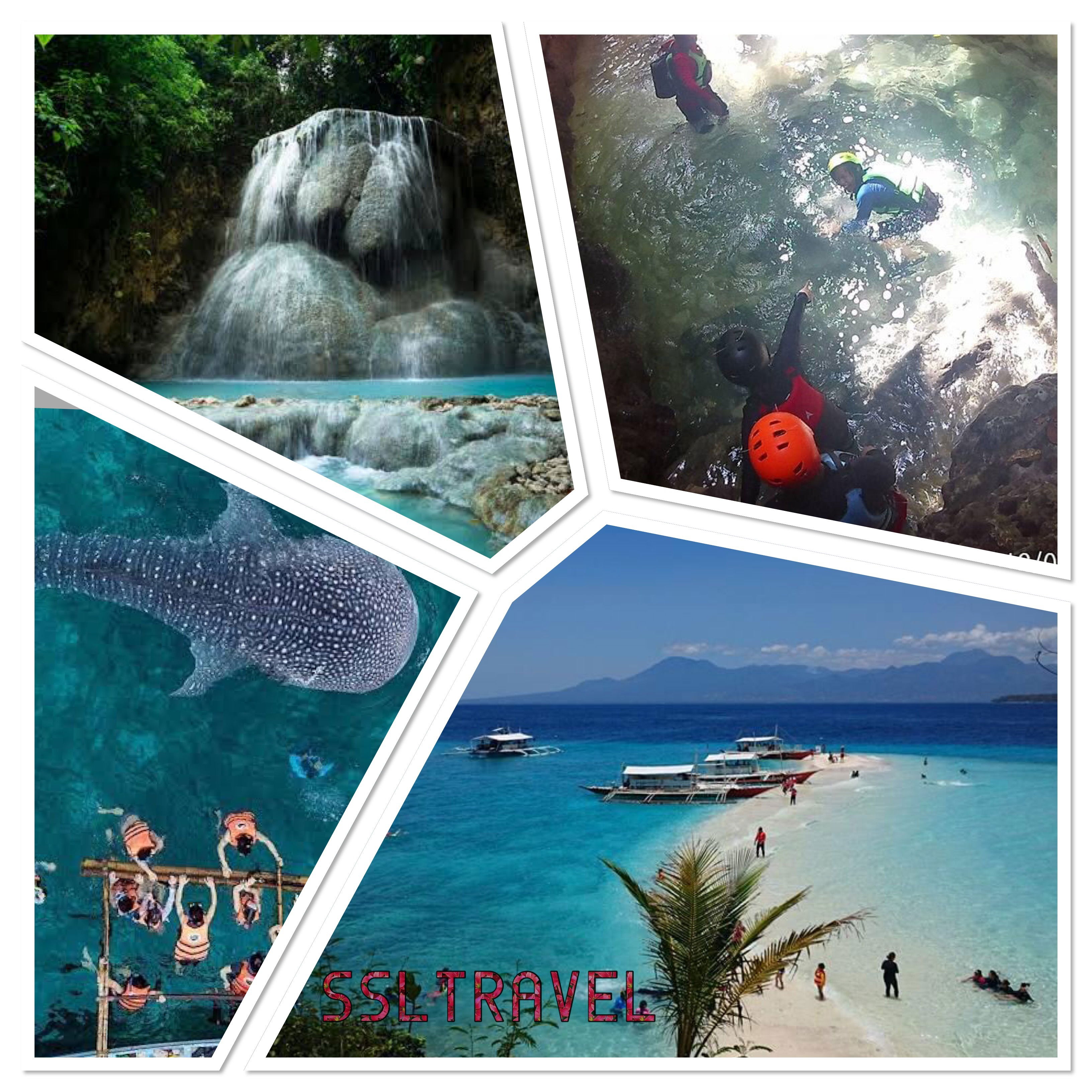 OSLOB TOUR-
should be definitely on your list if you want to enjoy a secluded getaway or enjoy the luxury of water activities with almost none around you
It is most well known for being one of the best spots to swim with whale sharks.
Swim at Tumalog Falls / Aguinid falls
Explore the Baluarte Ruins.
Take Photos of the Cuartel Ruins.
Have a Dip at the Mainit Springs. (depends upon the availability)
See the Surviving Our Lady of Immaculate Conception Church.
Sumilon Island - Dubbed as the country's first marine reserve
is a treasure trove of hundreds of marine flora and fauna species guaranteed to give a truly unique diving experience
The white sandbar is noted for its changing and shifting patterns depending on the time of year.
Enjoy water activities
BOHOL - is one of the most popular and tourist-friendly destinations in the Philippines .Bohol is famous for its Chocolate Hills; its tarsiers, which may be the world's smallest primate; its heritage sites and old stone churches.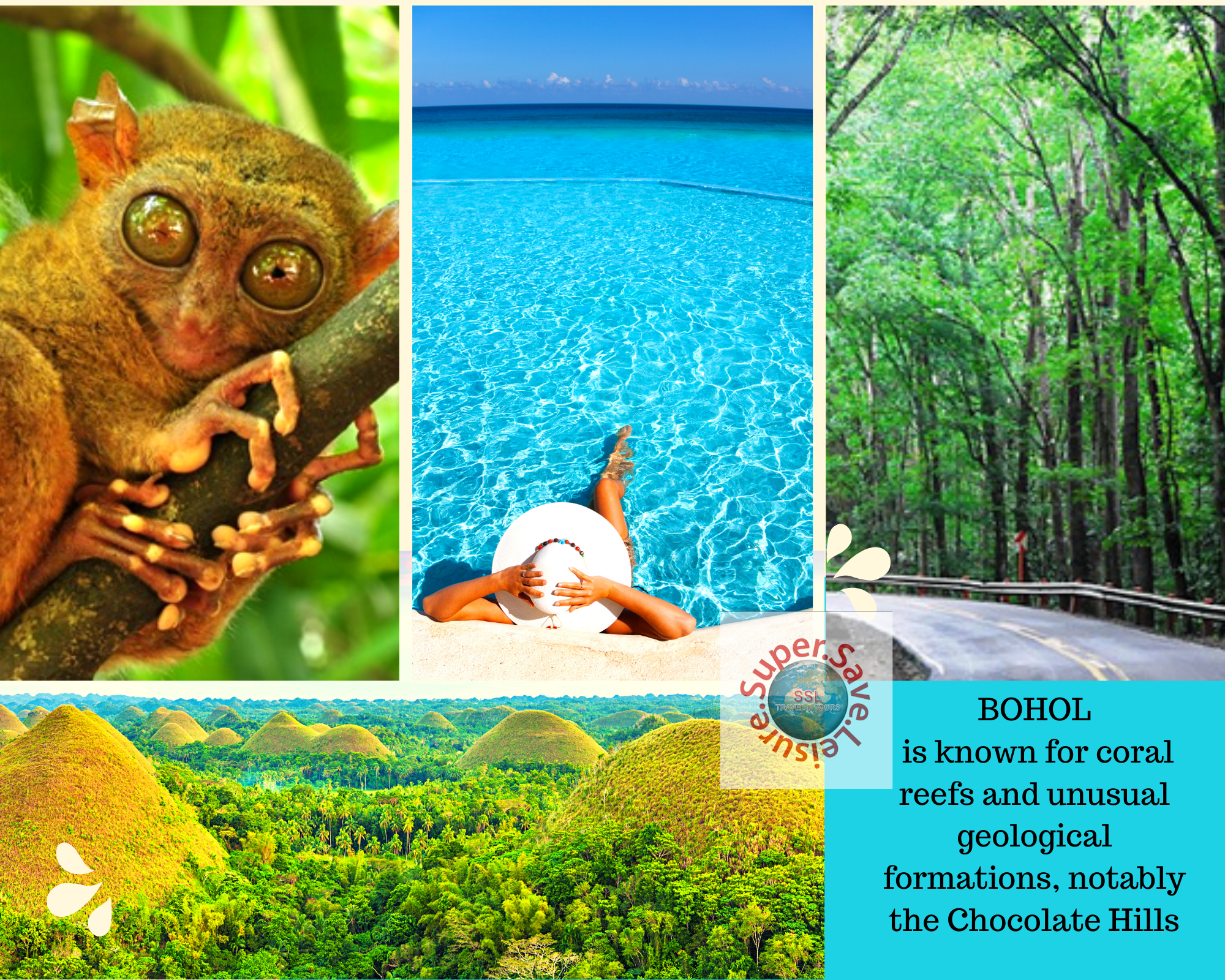 The majestic Chocolate Hills is one of the Philippines' most popular tourist attractions and from its strange yet unique formation and rich vegetation that turns into chocolate brown during the dry months, hence, the name.
BOHOL TOURS
Countryside Tour - Philippine Tarsier and Wildlife Sanctuary, Bohol Habitat Conservation Conservatory, Bohol Hanging bridge, Phyton Sanctuary and Loboc River Cruise over lunch
See the Chocolate Hills and Bilar Man-made Forest
Buy souvenirs and their famous delicacies
Visit the Hinagdanan Cave, Dauis Church and Miracle Well, Sea Shell Museum, Bohol Bee farm, Panglao Church and Watchtower with the Panglao Island tour
Relax and beach happy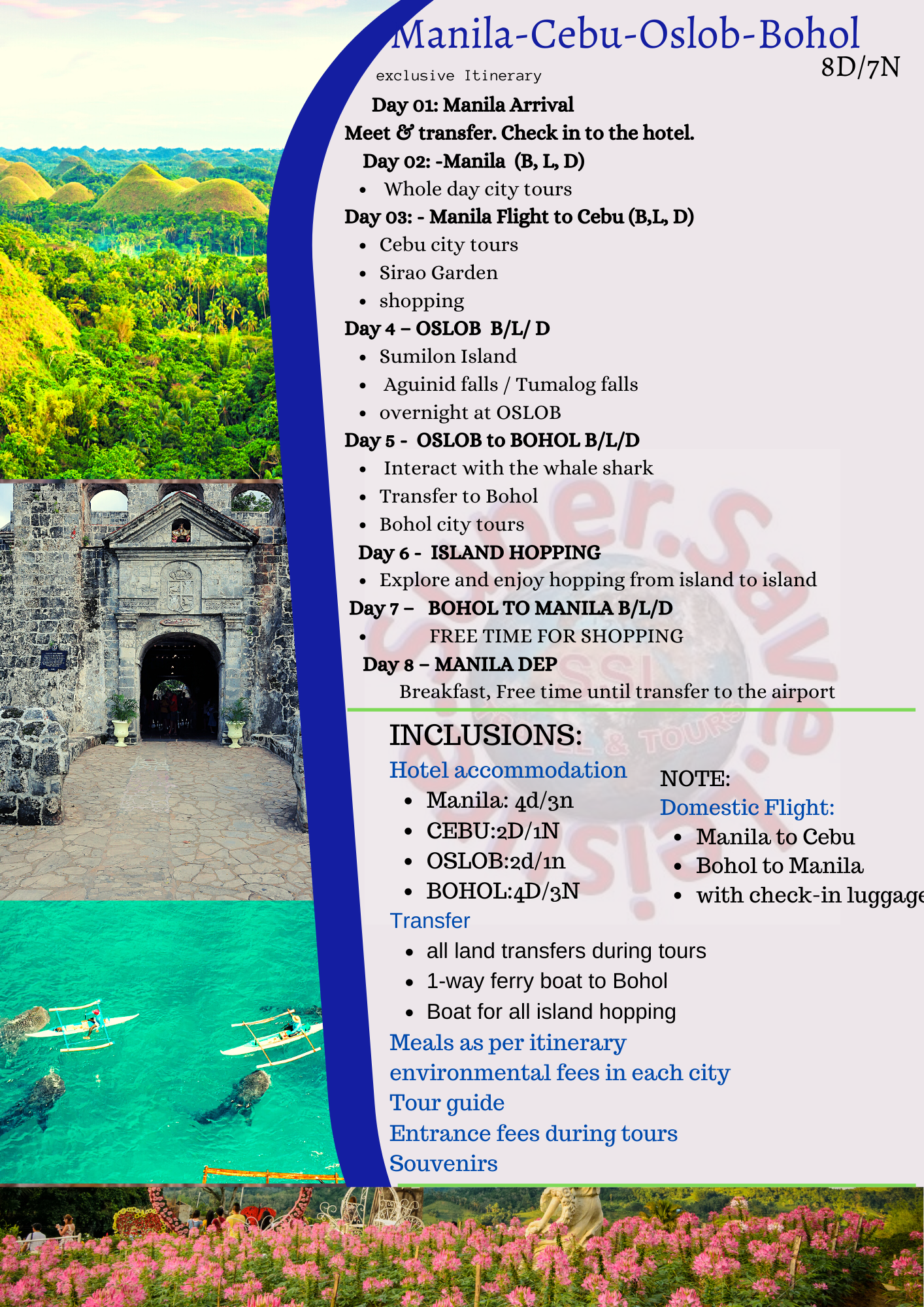 Let us take you there!! Ask for quoatation