Life is short and the world is wide. Better get started.

"Traveling – it leaves you speechless, then turns you into a storyteller." – Ibn Battuta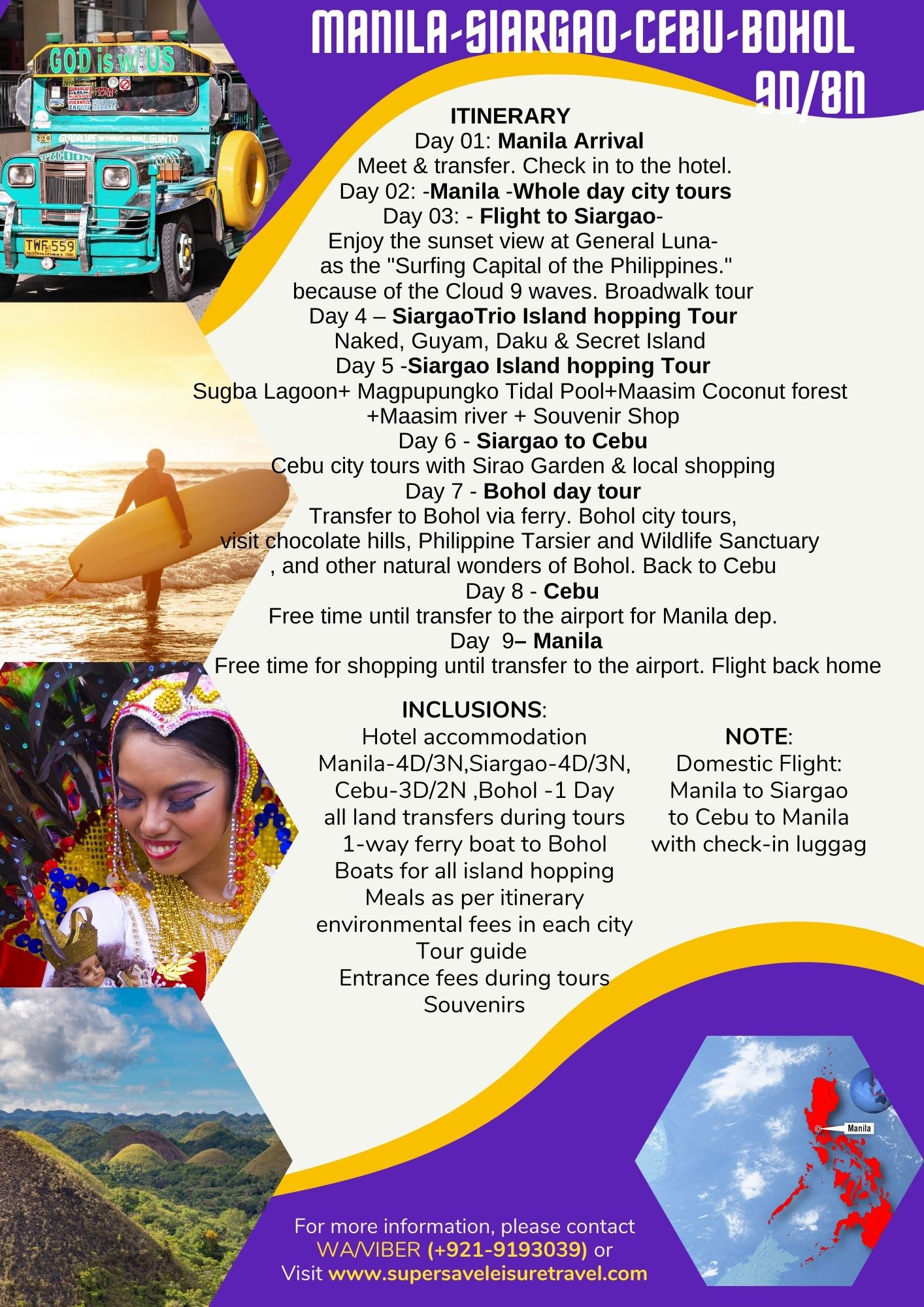 TOURIST SPOTS TO VISIT
1. MANILA CITY TOUR -Manila, known as the "Pearl of the Orient", is the nation's capital city. This bustling historic city is full of things to see and do — including museums, parks, theaters, shopping malls and a plethora of restaurants to choose from. Tagalog has always been the language
Intramuros
Rizal Park
.National Museum of the Philippines
Fort Santiago.
San Agustin Church.
Manila Cathedral
Malls & shop
SIARGAO-It has pristine white beaches and islands, breathtaking lagoons, and lush green coconut trees lined up on the roads.
It is a place for those who like adventure spots and to spend lots of time surrounded by the beautiful wonders of nature. Siargao also has the largest mangrove forests in the Philippines.
SIARGAO ISLAND HOPPING A - It will leaves you speechless, the fresh, natural beauty. Simply AMAZING!
TRIO ISLAND HOPPING TOUR (NAKED,GUYAM,DAKU)
SECRET ISLAND
BROADWALK TOUR IN CLOUD - 9
What is Guyam island known for? It is an islet that has a small stretch of powdery-white sand and dotted with coconut trees. It also has interesting coral rock formations that are perfect for snorkeling.
SIARGAO ISLAND HOPPING B - The adventure adventures fill your soul.
SUGBA LAGOON
MAGPUPUNGKO TIDAL POOL
MAASIM COOCONUT FOREST
MAASIM RIVER
SOUVENIR SHOP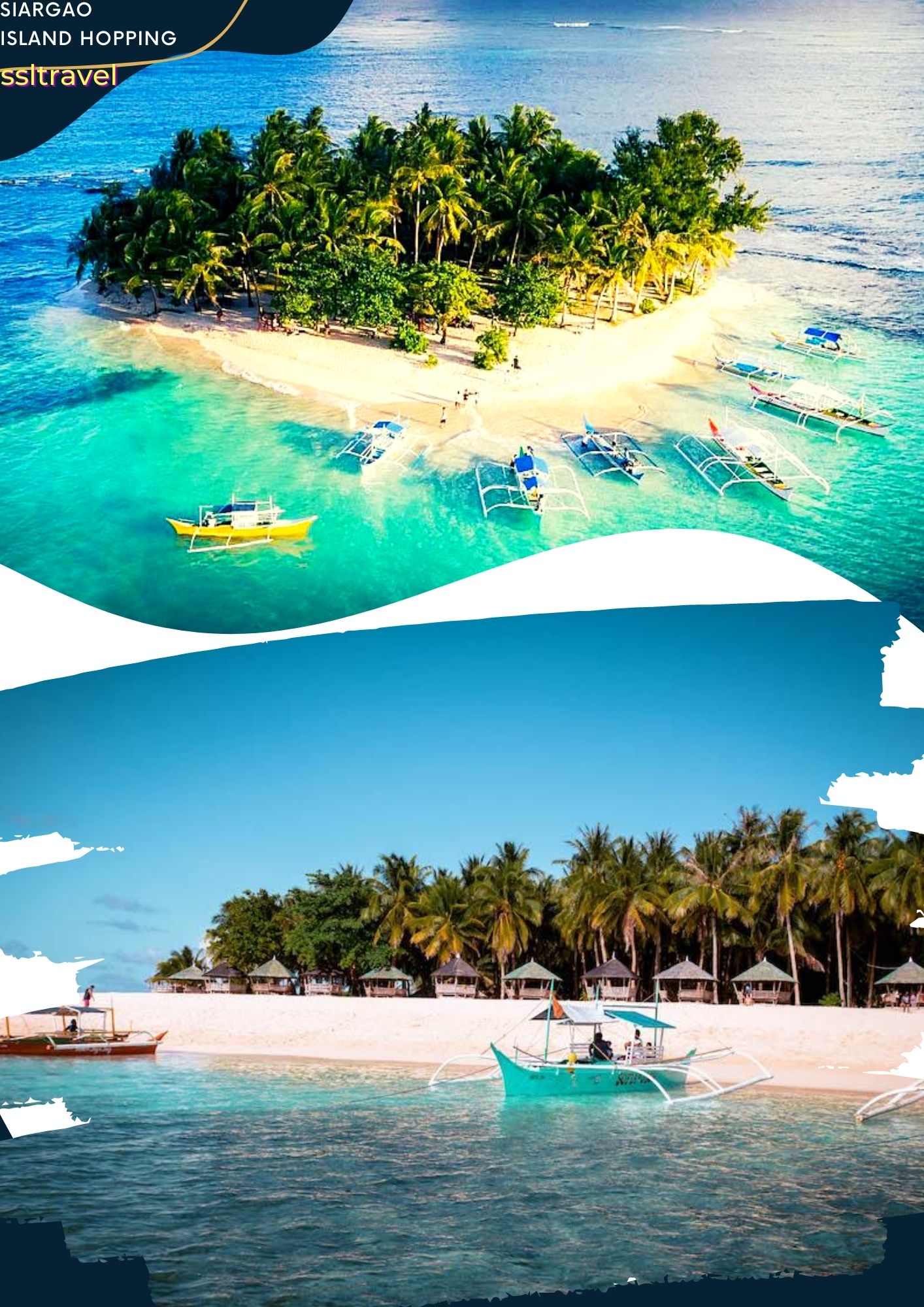 Cloud 9 is probably the most famous place in Siargao. This is where surfers go to catch some waves. For non-surfers however, this is the perfect place to view the sunset, take Instagram-worthy shots and watch surfers as they dance with the waves while you lay flat on a coconut shaded spot with your bottle of beer or a glass of mojito in tow listening to some reggae.
After exploring, swimming, and beaching bumming on the islands of Naked, Daku, and Guyam, go for another round of swimming in Magpupungko Rock Pool. If you visit Siargao in the right season, test your surfing mettle by riding the famous cloud 9 waves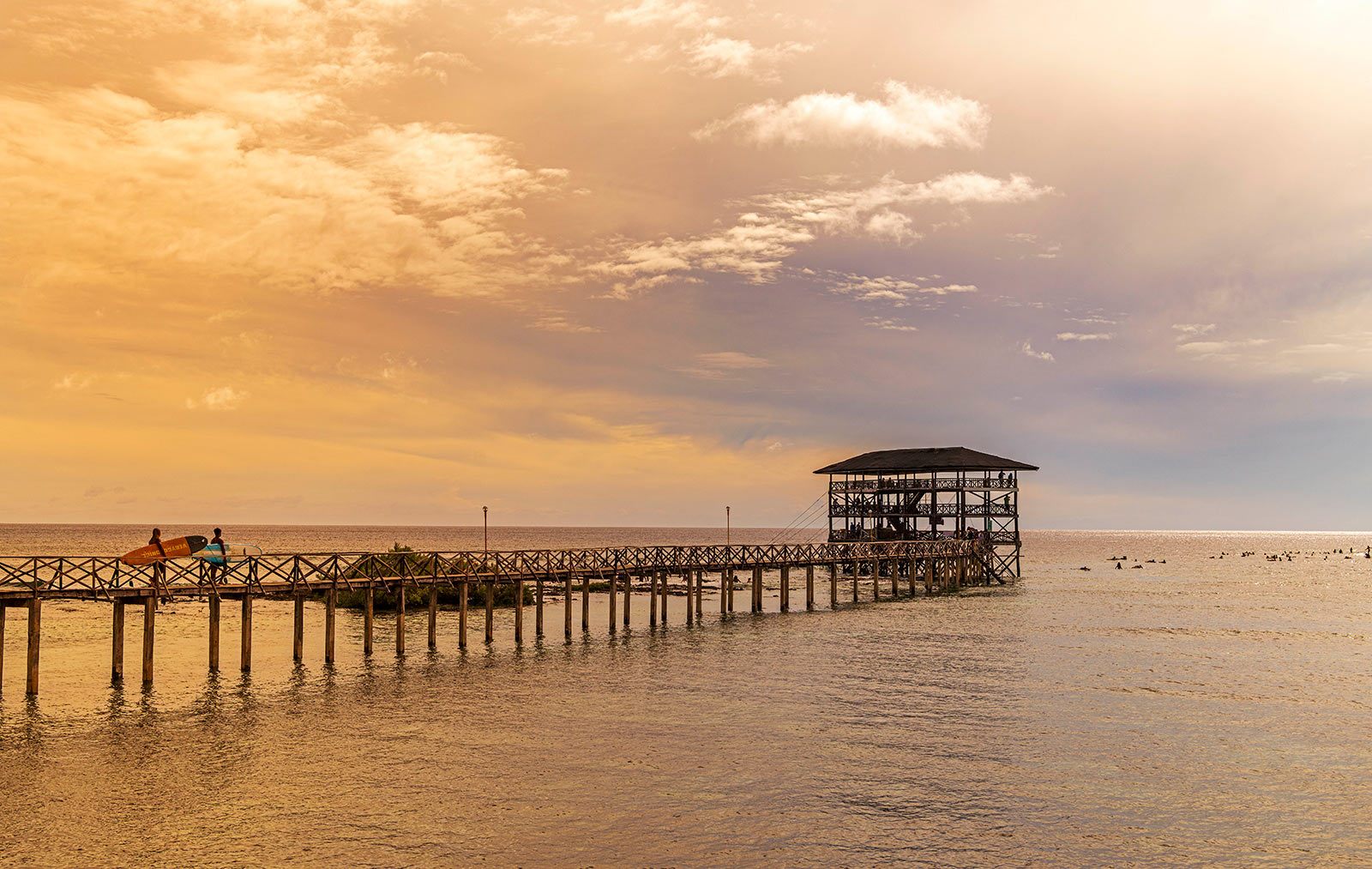 BOHOL - is one of the most popular and tourist-friendly destinations in the Philippines .Bohol is famous for its Chocolate Hills; its tarsiers, which may be the world's smallest primate; its heritage sites and old stone churches.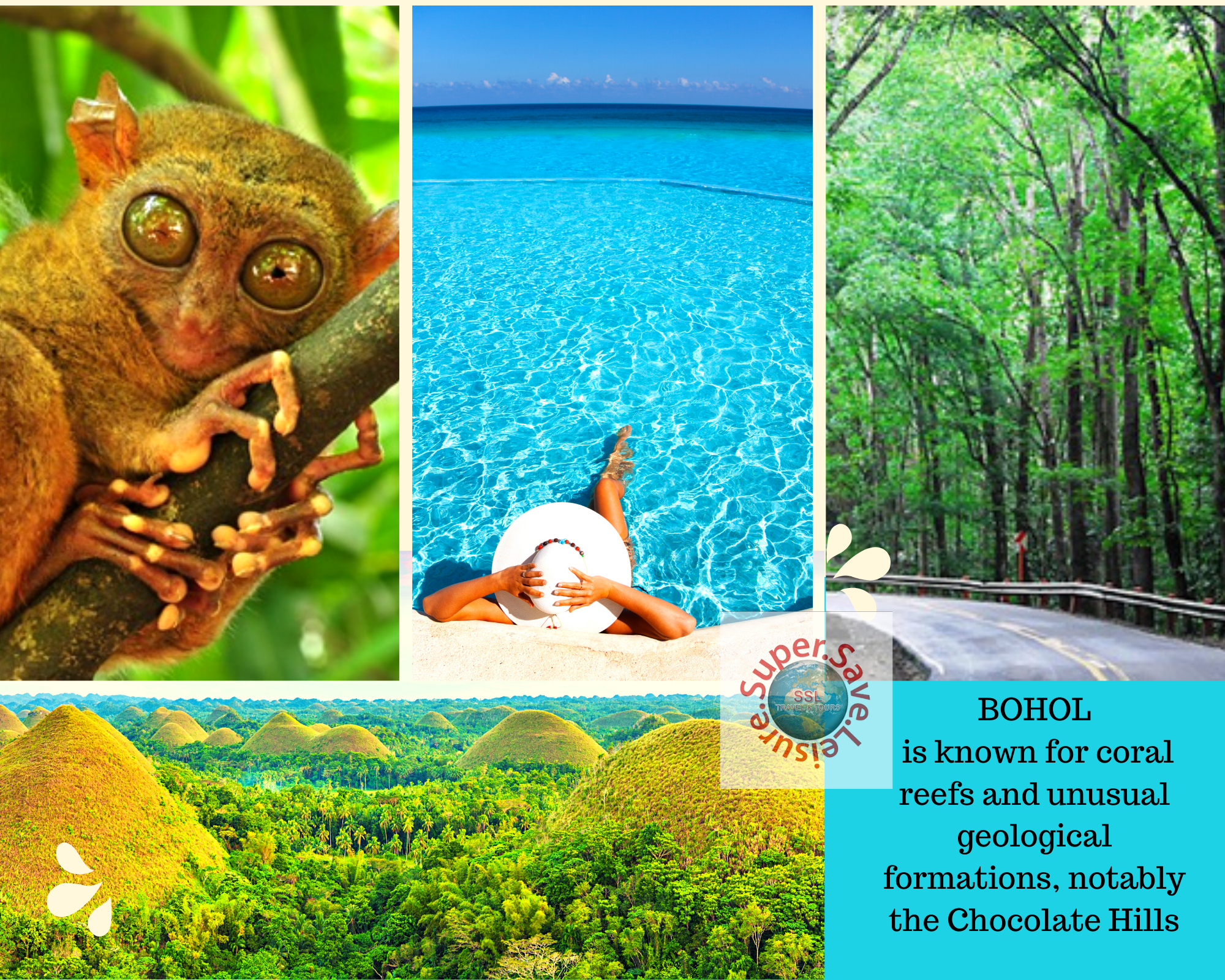 The Bohol Countryside Tour takes you on a memorable and fun-filled trip to Bohol's tourist attractions such as the world-renowned Chocolate Hills. Visit historical and cultural landmarks like the Blood Compact Shrine and Baclayon Church, then go sightseeing at the Chocolate Hills and Man Made Forest.
BOHOL TOURS
Countryside Tour - Philippine Tarsier and Wildlife Sanctuary, Bohol Habitat Conservation Conservatory, Bohol Hanging bridge, Phyton Sanctuary and Loboc River Cruise over lunch
See the Chocolate Hills and Bilar Man-made Forest
Buy souvenirs and their famous delicacies
Visit the Hinagdanan Cave, Dauis Church and Miracle Well, Sea Shell Museum, Bohol Bee farm, Panglao Church and Watchtower with the Panglao Island tour
Relax and beach happy
Bohol's most popular delicacy, Peanut Kisses are hill-shaped cookies that promise nutty goodness in every bite. The cookies are made from peanuts and egg whites, baked to crunchy perfection. This snack is offered by most department stores and souvenir shops around Bohol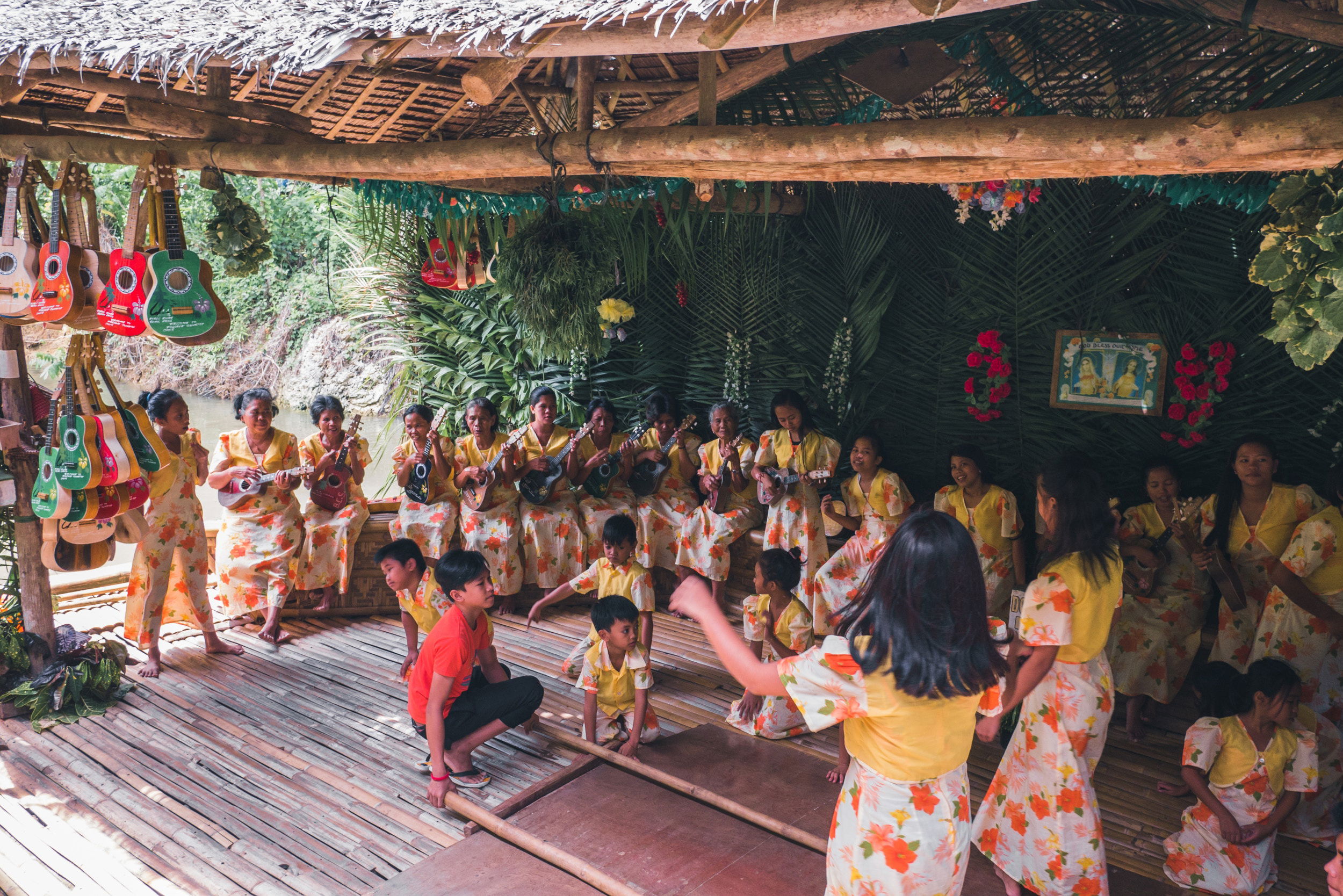 FOR INQUIRIES: SUPER SAVE LEISURE TRAVEL & TOURS
Aguinaldo Highway, Salitran, Dasmariñas, Cavite, Calabarzon, Philippines