VISIT :ANTIOCH–TARSUS-CAPPADOCIA-KONYA- PAMUKKALE –KUSADASI IZMIR-CANAKKALE-ISTANBUL
VISIT 7 CHURCHES -Ephesus, Smyrna, Pergamum ,Thyatira, Sardis, Philadelphia, Laodicea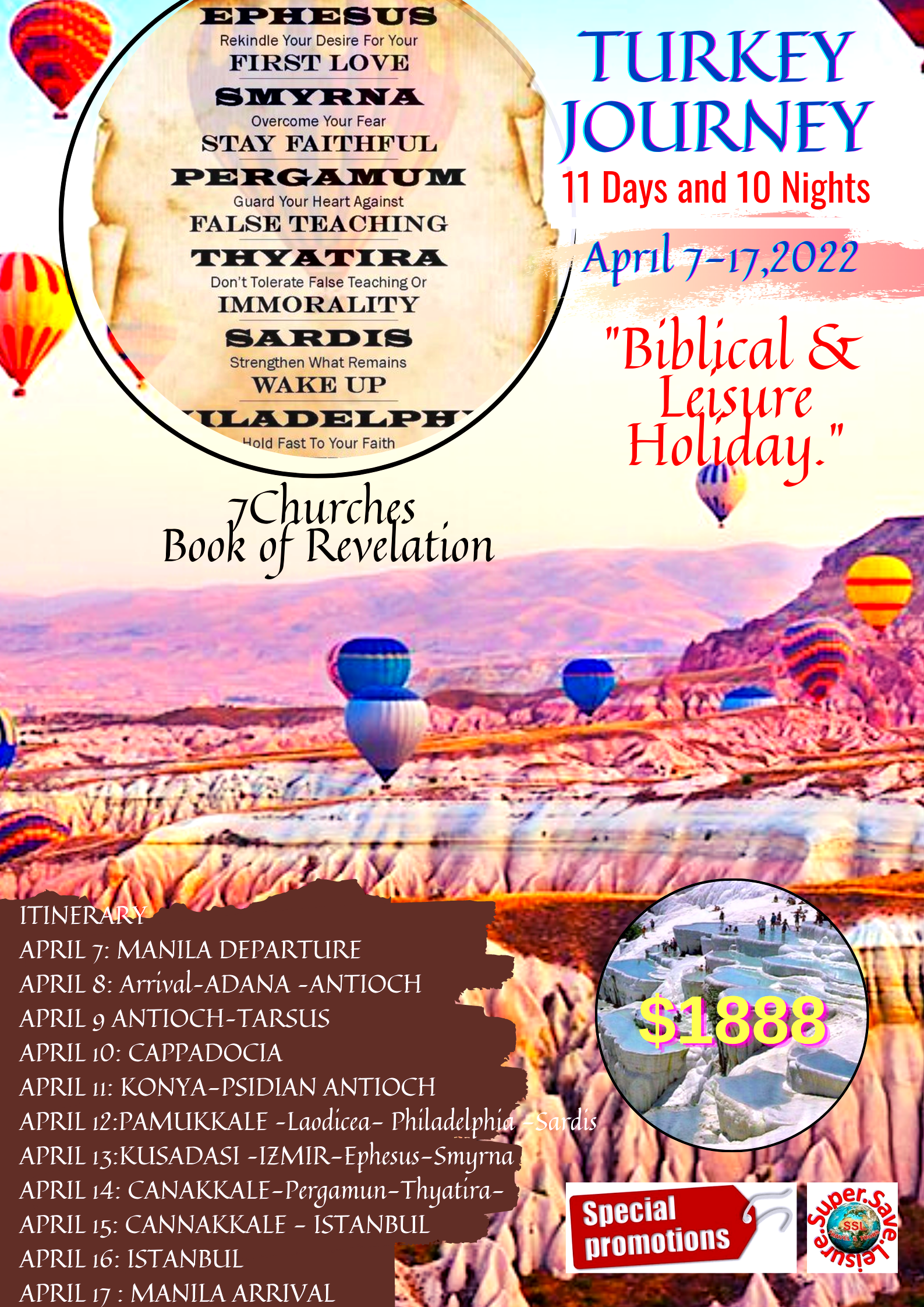 HIGHLIGHTS:

Goreme open air museum - Best valleys
Underground city
carpet shop
Jewelry shop
local handcraft shops
Mevlana Museum
YALVAC
Hierapolis-Necropolis Roman Baths-Basilica
calcium cliff-white "Cotton Castles
Leather shopping with fashion show
Ruins of Ephesus -Arcadia way-Library of Celsius -amphitheater Acropolis,
cave Church of Peter
Hatay Archeological Museum
St. Paul's Well
St. Paul's house
The Cleopatra Gate Sağlıklı Village
House of the Virgin Mary
Red Basilica
Troy - legendary walls & buildings famous Wooden Horse
Blue Mosque
Hippodrome
Hagia Sophia Mosque
Topkapi Palace
Grand Bazaar
Bosphorus
Cruise7 churches sites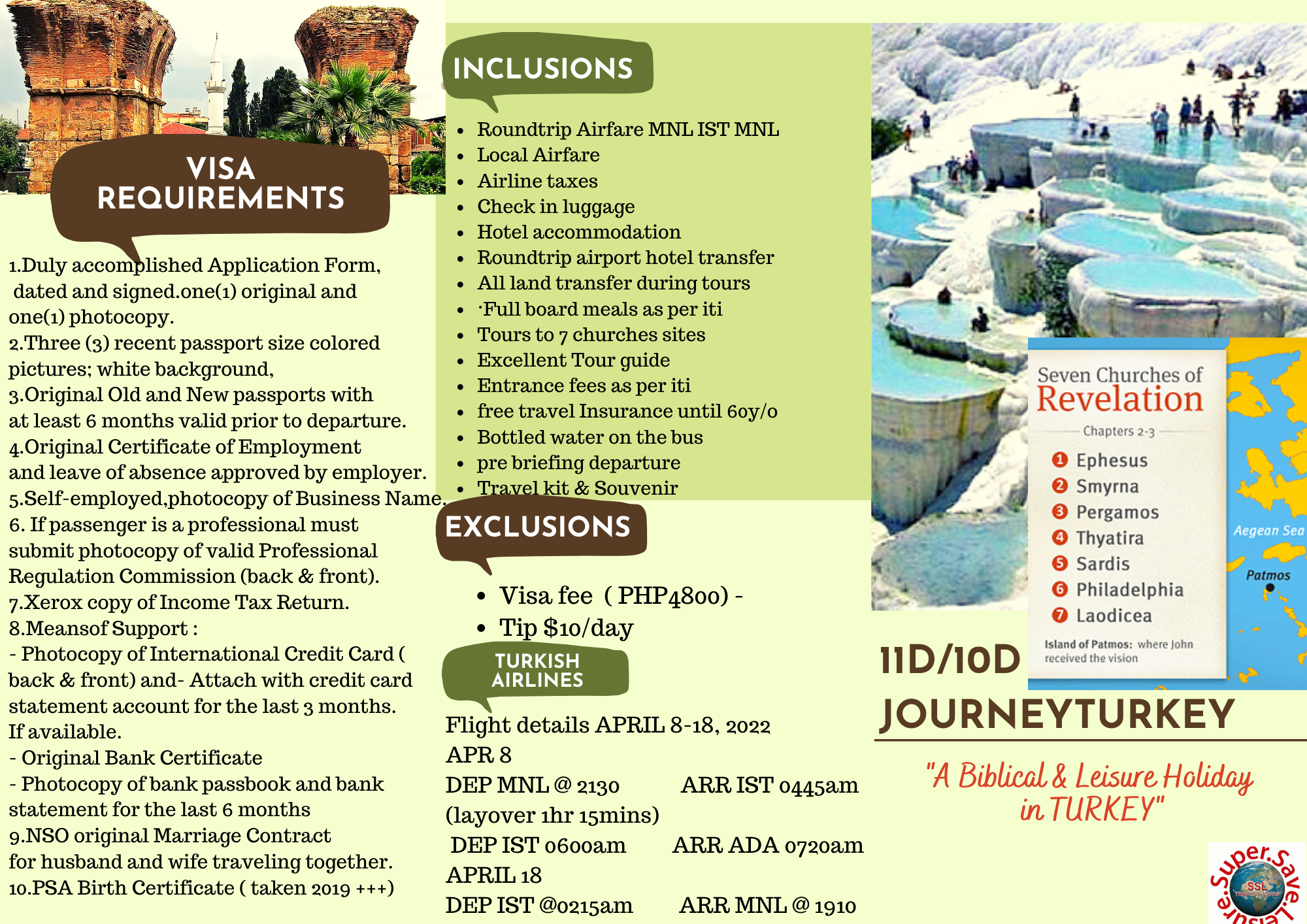 ITINERARY
Day 01 : Manila Departure @2130Day 02 9:Turkey: Istanbul to Antioch (L, D)
Day 02 Arrival Istanbul (lay over) & transfer to Antioch by plane .Arrival @0720am
Upon arrival to Adana city, drive to Antioch (Antakya)
visit Cave Church of Peter; it is the oldest church in the world. It is where Peter and Barnabas prayed alongside Paul. It was the base for Paul's missionary journeys, where Jesus' followers were first called "Christians" (Acts 11:26) and where the Gospel of Matthew was probably written
Hatay has a rich collection of mosaics dating back to the Roman era in the 2nd and 3rd centuries
Day 03 : ANTIOCH–TARSUS-CAPPADOCIA - (B,L,D)Drive to Tarsus birthplace of ST Paul, visiting;
House of ST Paul & St. Paul's Well ;
The Cleopatra Gate- dates to around 40 BC.
In the upper part of Sağlıklı Village,the remains of a Roman Road.
Hotel check in at Cappadocia
Day 04 : Cappadocia (B,L, D)
Visit the Goreme open air museum,
Photo stops of best valleys of Cappadocia, Fairy Chimneys, Caves,
Rock-cut Churches & Houses ETC..
Visit Ozkonak Underground city,
Visit local shops of carpet & jewellery local handcraft items.
Day 05 :Konya – PSIDIAN ANTIOCH-PAMUKKALE (B, L, D)
Drive to Konya-capital of of Seldjuk Empire
visit the Mevlana Museum, home of the whirling dervish.
YALVAC (PSIDIAN ANTIOCH) ; Paul the Apostle and Barnabas, as recounted in the Acts of the Apostles,
Paul's first missionary journey and Paul's sermon in the Jewish synagogue together with Barnabas, from the city.
CHECK INN AT HOTEL IN PAMUKKALE.
DAY 06 : PAMUKKALE –KUSADASI (B,L,D)Breakfast, early departure, visiting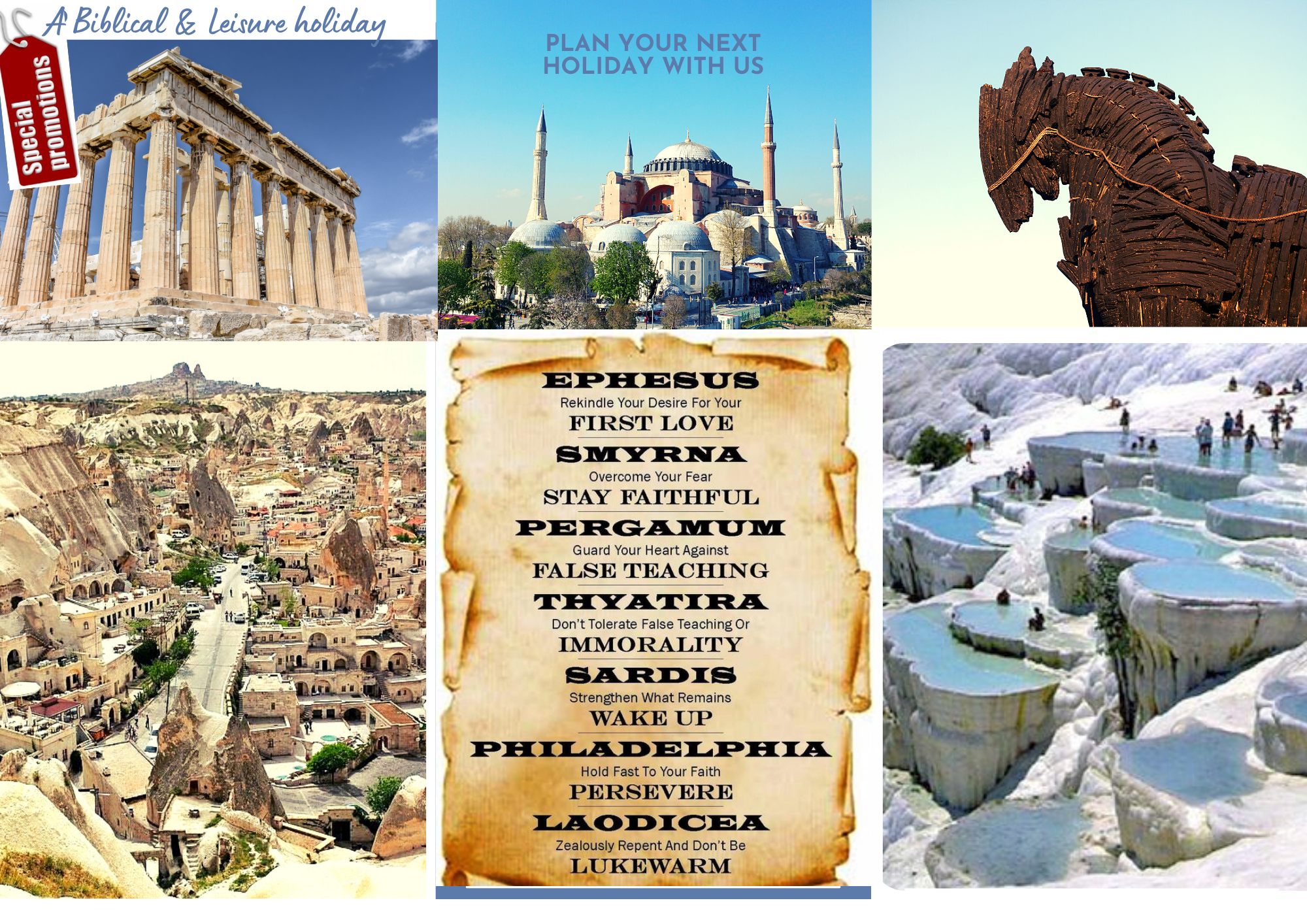 HIERAPOLIS -are Necropolis, Roman Baths, Domitian Gate, Latrina, Oil Factory, Frontinus Street, Agora, Byzantium Gate, Triton Fountain, Cathedral, Apollon Temple, Plutonium, Theater and Antique Pool.
TRAVERTINES - white Calcium cascades of Pamukkale (the white "Cotton Castles").
LAODICEA (Rev 3:14; 14-22)
PHILADELPHIA ( Alasehir ) (Rev 3:7-13) visit the church ,
SARDIS (Rev 3:1-6) visit the synagogue, Gymnasium and Bath complex
Temple of Artemis.
Check inn at HOTEL IN KUSADASI.
DAY 07 : KUSADASI –IZMIR (B,L,D)Breakfast, VISIT ;
Leather shopping with fashion show,
Ruins of EPHESUS (Rev 2:1-7) - Celsius Library, Temple of Hadrian,the fountain of Trajan,Theater
House of the Virgin Mary ,
SMYRNA (Ancient Izmir) (Rev 2:8-11) ,
.Check inn at HOTEL IN IZMIR.
DAY 08 : IZMIR-CANAKKALE (B,L,D)Breakfast, Visit
THYETERIA (Rev 2:18-29) and visit the ruins of a Basilica
PERGAMON (Rev 2:12-17). Visit Red Courtyard (Red Basilica) and Acropolis with cable car.
Drive to Canakkale and visit the ruins of Troy
Visit its legendary walls, building and famous Wooden Horse.
Check inn at HOTEL IN CANAKKALE
DAY 09 : CANAKKALE -ISTANBUL (B,L,D)After breakfast drive to Istanbul, afternoon visit Istanbul.
Blue Mosque
Hippodrome,
Hagia Sophia church
The Topkapi Palace
Free time at Grand Bazaar
Check inn at HOTEL IN ISTANBUL.
DAY 10 : ISTANBUL-BAfter breakfast, Bosporus Cruise ride optional free time at leisure until transfer to the airport. Transfer to the airporté
DAY 11 : Departure IST 02:00 am Meals on board .MANILA arrival 1910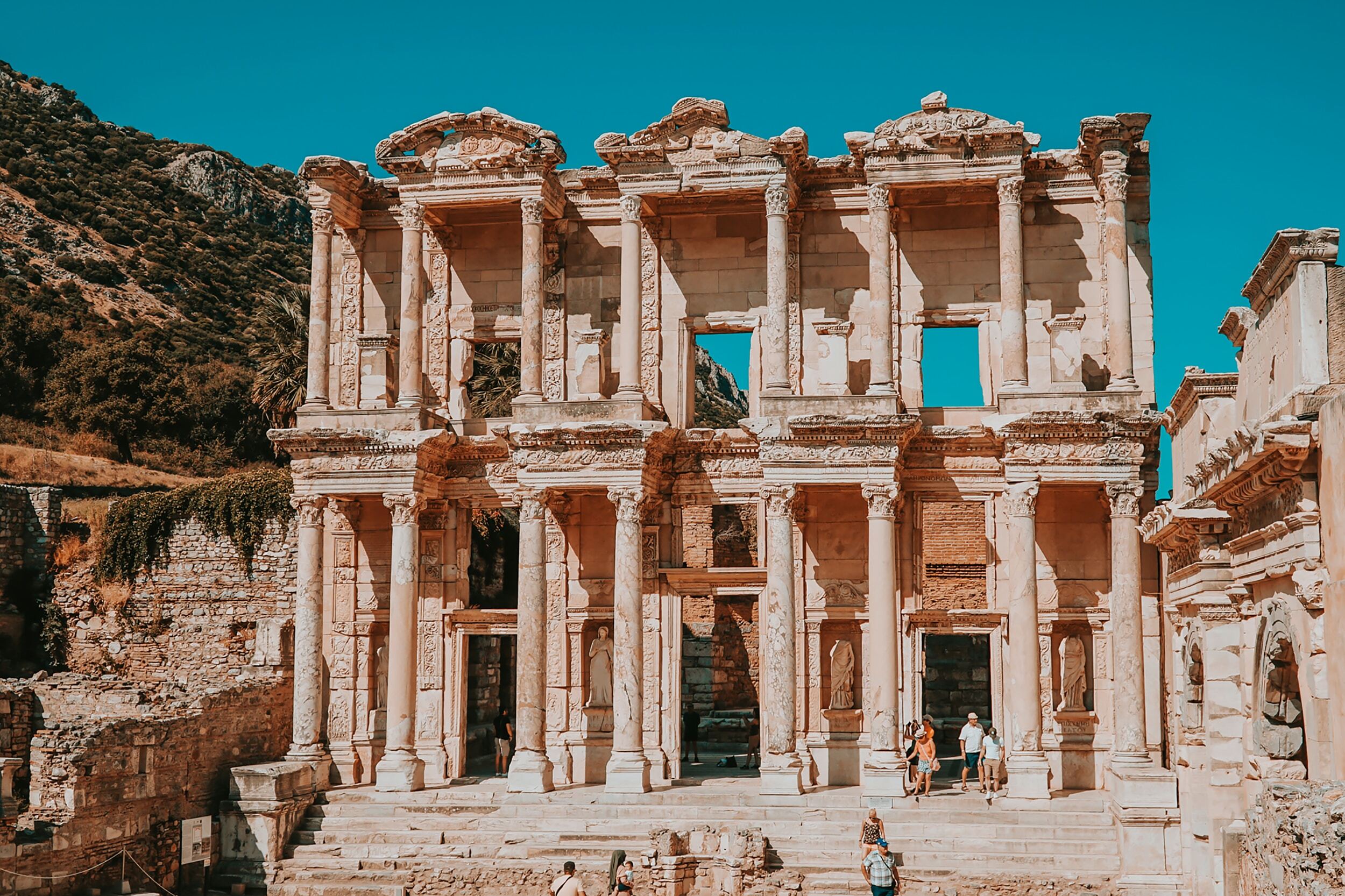 PAYMENT applicable to Manila departure
Rates: $1888

DEPOSIT $488 : upon confirmation of slot (no deposit no confirmation)
Balance : $1888-488 =$1400 balance $1500/3mos = $467
Balance Due date every Dec 10,2021,Feb 10,2022, March 10, 2022
Note : if you deposit/confirm by January or onwards you will pay the previous due date (ex; Dec due)
Visa to be paid on January 2022.
Tipping to be collected on pre pre briefing departure.